Hannabrook Park - Continuing Efforts at Hannabrook …06/25/2022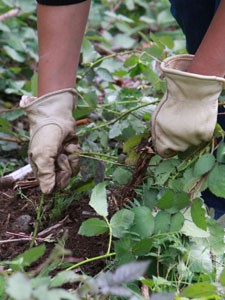 Activities
Our volunteers are uncovering beautiful native plants and freeing them from a variety of invasives species at Hannabrook. Join this continuing effort to beautify the park and educate yourself on a new invasive while getting some exercise and enjoying great comradery! Blackberry and scotch broom removal will be on the agenda!
Open to the public
All ages OK
11 out of 20 participants registered.
What to Bring
Be prepared to work rain or shine! Dress in layers and wear clothing that you don't mind getting dirty. Closed-toed shoes, long sleeves, and pants are recommended. Please bring a [reusable] water bottle and a snack. We will be providing tools as well as gloves. If you have your own work gloves, feel free to bring them.
If you are showing any symptoms of Covid (coughing, sneezing, fever, etc.), please stay home.
Don't forget the Youth Waiver Form signed by parents if you are under 18 and not accompanied by a parent.
This park has no restroom facilities.
Where to Meet
South end of parking lot.
Meeting Location Map
Where to Park
Parking is only available along 1st Avenue SE.